Government Advice for parents and students on the return to school:
https://www.gov.ie/en/publication/a04fc-advice-for-students-and-their-families/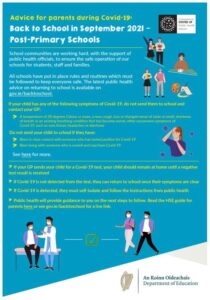 18/08/2021
Dear Parents/Guardians,
I hope all students are looking forward to returning to school to see their friends and to re-engage with their learning. We are certainly looking forward to welcoming them back. Consistently, over the last 18 months, we at Our Lady's Grove have been focused on reducing and mitigating risk for all of the school community. Recently it has been communicated to all schools that the protocols and procedures that were in place at the conclusion of the last school year should continue this August and beyond. I am posting this letter on this page of the website so that you can all be reminded of the different communications relation to these procedures which we have shared with you over the last 12 months.
We all hope that these measure will come to an end when we as a society have effectively reduced the risk of COVID-19 to the health and well-being of all in our community. To this end we would encourage all families to seriously consider vaccination as a key strategy to mitigate health risk.
Similar to previous years there will be a phased return to school for all academic years. Each student's return will commence with an induction which focuses on both the regular procedures and practices of Grove life and strong reminders of actions and considerations relating to prevention of the spread of COVID-19. Registration is again a digital process this year. Please follow the instructions that were outlined in our communication to you earlier in the summer. Make sure to indicate to us if your contact details have changed in any way since the end of last year.
Book lists and uniform lists are available from the usual space on our school website. Contact us if you have any queries in relation to these. We would appreciate if all parents would ensure that our mobile phone policy is followed by all students. This includes any wearable phone accessories such as Apple watches. I hope you understand that our concern with this is to enable all students to focus on their studies.
Looking forward to working with you during the new school year.
Warmest wishes
Colm Dooley & Sonya Lyons
19/10/2020
Our Lady's Grove 8/9/2020
Covid-19 Absence Procedure
<